Flash Card Maker and Study Tool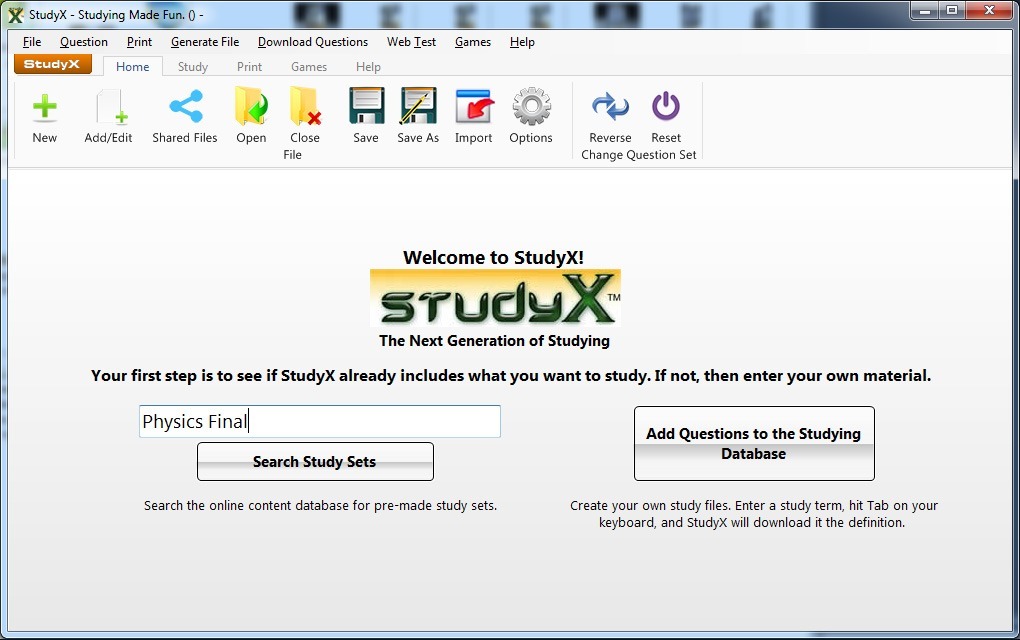 Easy memorization - study anything for work, home, or school.
Over 30 million study files available for free via download.
Save money – Install on up to 3 computers or laptops.
Have fun, save time -
interactive study games combined with our smart-learning platform and the ability to Study while you browse the web!
Install on up to 3 computers.
Good for a lifetime!
Way beyond flash card software functionality - including games, practice tests (multiple choice, fill-in-the-blank, matching), study sheets and flash cards
Efficient - study while performing other computer tasks using the autopilot option
Fast Flash Card Creator and Study Tool Combined!
StudyX is the first general purpose study software designed to help students (elementary to graduate) learn materials faster while actually having some fun!

Study by playing games, and creating on-screen or paper flash cards, worksheets, and fill-in-the-blank, matching or multiple choice tests.
Be environmentally friendly and efficient at the same time. Using StudyX's easy interface, you can easily create on-screen flash cards eliminate costs (paper and ink) of traditional flash cards. In addition to the flash cards, randomly-generated tests using basic artificial intelligence helping the user focus on the most important information.
Once a question is mastered, StudyX congratulates the learner!
Study Software that Helps Students Learn Materials Faster
Access pre-loaded study material in basic subjects (Math, English, Foreign Languages, US History, Science, Social Studies, etc.) Add your own material in question/answer format. Study on screen or using printed aids: Flash card quizzing. Worksheets Auto-generated tests (fill-in-the-blank, matching, & multiple choice).
Eases memorization of foreign languages, vocabulary words, science terms, history facts, math and more.
Share study tests with classmates. Play 7 games to learn material. Answer pop-up questions while browsing the Internet.

Supports Windows XP, Vista, 7, 8, and Newer.